Climber who died after fall named as Fraser Campbell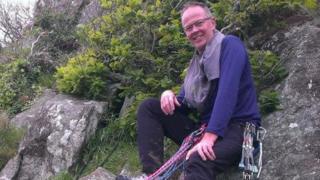 A man who died after falling during a climb on the North Face of Ben Nevis has been named as Fraser Campbell, from Clackmannanshire.
The Glasgow-born 52-year-old was injured on Friday while climbing with another man.
Following what rescuers described as a "difficult and technical" rescue, he was airlifted from the scene at 02:00 on Saturday. He died from his injuries.
His family said he was a "wonderful Daddy, kind and radiated enthusiasm".
In a statement, Mr Campbell's family and his fiancée, Julie, said: "Fraser was born in Glasgow, but lived most of his life on the north east coast of England, before moving back to Scotland with his family in June of this year.
"Fraser was my fiancé, my best friend and a wonderful Daddy to our little girl. He was kind and had a bubbly personality.
"He radiated enthusiasm and positivity in everything he did, but especially for his two great passions - his family and climbing.
"He was dearly loved and he will be sorely missed by all his family and friends."
During his time in England, Mr Campbell was a member of Cleveland Mountaineering Club.
On its website, the club said the thoughts of its members were with his family and friends.
'Courageous efforts'
Mr Campbell's climbing companion raised the alarm at about 18:00 on Friday and members of Lochaber and RAF mountain rescue teams mounted a rescue operation.
The injured man, his climbing companion who was uninjured and mountain rescue personnel were airlifted from the scene by a helicopter at 02:00 on Saturday.
Police Scotland has described the efforts of mountain rescue teams as "courageous".
Lochaber Mountain Rescue Team said the rescue operation in the dark and cloud on dangerous terrain as "one of the most difficult and technical" it has ever been involved in.
Eighteen members of the Fort William-based team and 13 from the RAF team were involved in the operation on a route known as the Long Climb, the longest climbing route in the UK.