Rig Transocean Winner set to be moved from Lewis bay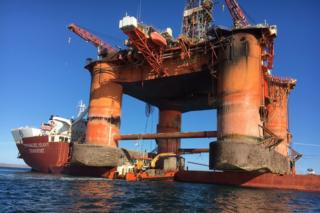 The rig Transocean Winner is expected to be moved on a heavy lift ship from Broad Bay, Lewis, on Wednesday.
Hugh Shaw, the UK government official overseeing the salvage operation, said preparations were being made to allow the Hawk to begin the journey to Malta.
From Malta the 17,000-tonne drilling rig is to be taken to a yard in Turkey to be broken up.
The structure ran aground at Dalmore on Lewis in a storm in early August while being towed to Malta.
Last week, Transocean Winner was floated on to the deck of the Hawk, a semi-submersible ship used for transporting large maritime structures over long distances.