Highlands mass murder attempt 'result of psychosis'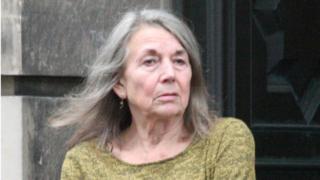 A man who tried to murder 11 people at a holiday home in the Highlands had "drug induced psychosis", a court has heard.
A doctor decided Kieran Ridley, 32, had the condition in the months leading to the incident near Mallaig.
Mr Ridley's mother Ann told the High Court in Edinburgh about the diagnosis.
In October 2015, Mr Ridley is said to have started a fire at the property with the intention of killing those inside.
His defence team have entered a special defence which states he was not criminally responsible due to the state of his mental health.
Mrs Ridley said her son had been a "happy go lucky" individual but developed mental health problems after moving to London to take up IT work at Dow Jones in the city.
She said her son had "delusions" and spoke to her about "Big Brother" and the "thought police."
Drug use
His brother Duncan, 46, told jurors that Kieran thought a neighbour was a CIA agent.
Mr Ridley said he thought his brother used cannabis, cocaine, ecstasy and Ketamine.
He told the court: "It was quite matter of fact. It was just that the television was speaking to him and when he was walking to work the billboard in the streets were talking to him and sometimes the computers at work were speaking to him."
Both Mrs Ridley, of Worcester, and Mr Ridley, of London, were giving evidence on the second day of proceedings against Kieran.
Prosecutors and Kieran Ridley's lawyers have agreed that he switched on a kitchen cooker before pouring petrol onto a refuse bin causing the flames to "take effect" in the kitchen of his family's holiday home.
Jurors heard on Friday from the contents of a statement of agreed evidence how Mr Ridley then left the property having locked the front and back doors of the house.
The was told that Mr Ridley also locked some of the windows and that he did this whilst being "aware" there were 11 people inside.
Mrs Ridley told prosecution lawyer Geoffrey Forbes that family members arranged for him to see a doctor at the Priory Hospital in Birmingham in 2013.
She said that a Dr Joseph concluded at the time that Kieran's mental health issues were down to him using cannabis.
Mrs Ridley said: "Dr Joseph was talking to him. He didn't want to give him any medication."
The court heard that Kieran continued to struggle with his mental health. In 2015, another doctor diagnosed Kieran with "drug induced psychosis."
Mrs Ridley said that Kieran was stressed and was not sleeping properly.
Highland holiday
Mrs Ridley told the court that in October 2015, she and other family members went to their holiday home in Mallaig for a break.
She told Mr Forbes that in the days leading up to the alleged crime, she was concerned for her son's well being.
Mrs Ridley told defence advocate Bert Kerrigan QC about some of the things that she and Kieran spoke about.
She added: "It was about the Big Brother and the thought police and things like that."
Mr Ridley's alleged victims are named in court documents as being his mother Ann Ridley, his brother Duncan Ridley and a woman called Heidi Fernandez Saenz.
It is alleged that a two-year-old child, an eight-year-old child, a 16-year-old child and a 15-year-old child, all of whom cannot be named for legal reasons, were also in the property at the time of the fire.
Other people who were allegedly in the house at the time are stated as being Leann Sainsbury, Mark Sainsbury, Callam Chapman and Thomas Robinson.
The trial, before judge Craig Scott QC continues on Tuesday.