US man wins World Porridge Making Championships in Carrbridge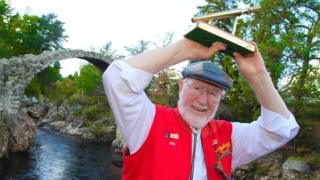 An 87-year-old American man has been crowned World Porridge Making Champion at an event in the Highlands.
Bob Moore, from Portland, Oregon, won the coveted Golden Spurtle for his efforts at the 23rd World Porridge Making Championships in Carrbridge.
The title is awarded to the contestant who makes the best traditional porridge using just three ingredients - oatmeal, salt and water.
Mr Moore said the win made him "so happy".
The 87-year-old, who used to run a wholegrain food business, said: "I couldn't believe it when my name was announced. It is so meaningful to me to win the Golden Spurtle.
"I've devoted my life to eating and producing good wholegrain food."
There is also a speciality competition for sweet or savoury porridge dishes which was won by Norwegian Thorbjorn Kristensen for the second year running.
He combined eggs, butter, vanilla sugar, cream and liqueur with porridge in a dish titled 'Unexpected Guests'.
The event is organised by Carrbridge Community Council and sponsored by Hamlyns of Scotland.