Woman's death in Inverness 'could not be prevented'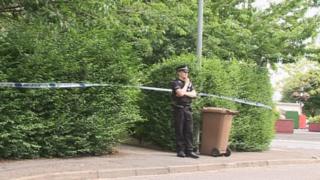 A sheriff has said "no reasonable" precautions could have prevented a disabled woman's death or the fire that contributed to it.
Barbara Anderson, 51, died at her home in Inverness, in 2013, due to the combined effects of a condition related to spina bifida and smoke inhalation.
But Sheriff Gordon Fleetwood has also said an inquiry into her death heard evidence of "flaws" in her care.
NHS Highland has apologised to her family for shortcomings in her care.
In his newly-released determination following the fatal accident inquiry, Sheriff Fleetwood said there were flaws in the control and management in the Telecare system operated by the health board at the time.
He said: "This resulted in inadequate records being kept of equipment installed in users' properties and inadequate records being kept of maintenance and replacement of equipment.
"It also resulted in equipment installed not being linked to the base unit of the Telecare system in all cases, including Barbara Ann Anderson's case.
"The accepted and discovered defects in the Telecare system, however, in my view, had no part to play in either the accident which led to Ms Anderson's death or the death itself.
"The evidence showed that the fire that started in Ms Anderson's bedroom was probably one which smouldered for some time before breaking into flame, whatever it was that started it."
'Productive life'
Sheriff Fleetwood paid tribute to Ms Anderson, saying that evidence heard at the inquiry told of her bearing her disability "gracefully and cheerfully".
He added: "Despite her physical restrictions she lived a full and productive life.
"It is unfortunate, in the extreme, that what could and should have been a long and happy retirement was cut so short in such a terrible and tragic way."
In a statement, NHS Highland described Ms Anderson, who had worked for Northern Constabulary, which is now part of Police Scotland, as a well-known and well-liked member of the community.
The health board said: "From the evidence that the inquiry heard, it is clear that the service Ms Anderson received prior to her death fell below the standard she was entitled to expect from NHS Highland.
"NHS Highland wish to restate publically what they have already said privately to Ms Anderson's relatives - they apologise for the shortcomings in that care unreservedly.
"The inquiry heard of some of the steps that have so far been undertaken by NHS Highland to address those issues.
"They have been done under the direct supervision of the chief executive who wishes to reiterate condolences to the family and friends of Ms Anderson and express profound sorrow about this tragic event."