Tourism body unveils new Loch Ness Monster hunting advice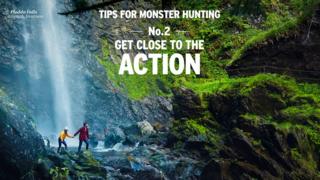 Tourism body VisitBritain has released a new set of tongue-in-cheek tips to finding the Loch Ness Monster.
Its new six-week digital marketing drive to be launched in France and Germany next week follows up a Nessie-themed campaign run earlier this year.
The latest effort will also target The Netherlands.
Called "Tips for Monster Hunting" the new ad campaign includes photographs taken at Plodda Falls at Tomich and the Falls of Foyers, south of Inverness.
The previous drive featured Glen Ord Distillery in Muir of Ord and kilted revellers in the Dores Inn at Dores on Loch Ness.
Both campaigns were set up with the aim of drawing more visitors to Scotland and the wider UK.