French sailor airlifted from navy ship off Barra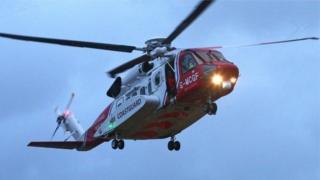 A French sailor has been airlifted off a military vessel off the south west of Barra after falling and suffering a back injury.
The alarm was raised at about 11:20 and the Stornoway Coastguard helicopter was called in to help.
The sailor was flown to a hospital in Glasgow.
Ships, aircraft and personnel from Europe and North America have been arriving in and around Scotland for a major Nato exercise.
Joint Warrior is held twice a year, in April and in October.
The exercise is one of Nato's largest training events and involves thousands of army, navy and air force personnel.
For the first time, this October's Joint Warrior will see exercises using unmanned vehicles. This event is called Unmanned Warrior.