Bid to salvage Transocean rig postponed amid rough seas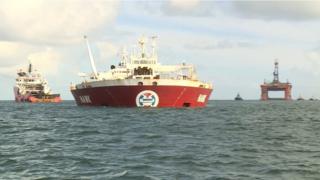 Attempts to load the oil drilling rig Transocean Winner on to a transport ship off Lewis have been postponed.
Poor sea conditions on Saturday morning led the salvage team to temporarily abandon the operation.
It had been hoped to move the 17,000-tonne structure, which ran aground at Dalmore in August, to the heavy transport ship the Hawk. Officials will meet later to decide what to do next.
The rig will eventually be taken to Turkey for scrapping.
Over the past month the Transocean Winner has been removed from Dalmore beach and towed to Broad Bay, Lewis.
The Maritime and Coastguard Agency (MCA) said sea conditions on Friday were above the agreed safe limits for the transfer.
A spokeswoman added that the latest weather forecasts suggested a deterioration in wind and sea conditions from Sunday onwards.
The Transocean Winner will now be temporarily put back onto her eight anchors.
The MCA said it would continue to look at options "including alternative locations offering shelter from prevailing conditions, dependant on appropriate weather and sea conditions for a safe operation".