New stretch of A9 south of Aviemore opened to traffic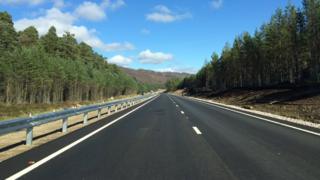 A new stretch of carriageway on the A9 has been opened to traffic between Kincraig and Dalraddy south of Aviemore.
Traffic is being diverted on to about 2.8 miles (4km) of new road surface to allow contractors to begin work on upgrading an existing part of the A9.
Eventually five miles (8km) of the road between Kincraig and Dalraddy will be upgraded to dual carriageway.
The project is to be completed by 2017 at a cost of £35m.
It is one of 12 sections of the A9 between Inverness and Perth to be upgraded from single to dual carriageway at a cost of £3bn.
The overall scheme is to be completed in 2025.