'Stranded' officer cadet back home in the Highlands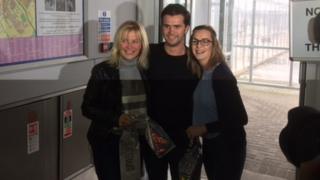 One of four officer cadets from City of Glasgow College who was stranded at sea on a ship off south east Asia for about four weeks has returned to Scotland.
Ruairidh Hanna, along with David Gorniak, Graeme Deacon and Gavin McPhail, were among 23 crew on Hanjin Louisiana.
The container ship was refused entry to ports after the company that owned it filed for bankruptcy.
Mr Hanna was met by his family after arriving at Inverness Airport.
The 22-year-old, from Beauly, near Inverness, told BBC Radio Scotland's Newsdrive programme on Wednesday that the crew had worried about running out of food while stuck at sea.
He also told the programme there was a lack of communication about their situation, causing frustration for the whole crew.
Hanjin Louisiana was allowed to dock in Singapore earlier this week and the four cadets were able to make their way back to Scotland.
Mr Hanna has thanked his local MP Drew Hendry and his union, Nautilus, for their help in bringing their ordeal to an end.
A total of 2,500 seafarers have been affected since shipping company Hanjin filed for bankruptcy. Ports around the world have refused to allow Hanjin ships to dock.