Lochmaddy harbour crash ferry sent to Greenock for repairs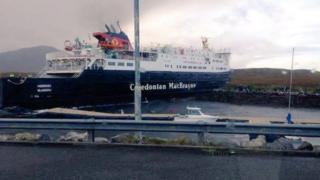 A Caledonian MacBrayne ferry which ran aground at Lochmaddy in North Uist at the weekend is being taken to the Clyde for repair.
The MV Hebrides suffered a technical failure as she was preparing to dock at 11:00 on Sunday.
The vessel sustained damage to the starboard propeller shaft after chains from the pontoon became entangled.
There was also some minor damage to the hull. No-one on the ferry or on shore was hurt in the incident.
CalMac said the MV Hebrides would sail to dry dock in Greenock, with the journey done in stages due to safety considerations. The vessel is expected to arrive by the end of the week.
In the meantime, the ferry operator said another vessel, MV Lord of the Isles, would take over between Lochmaddy and Skye until Saturday.
Passengers planning to travel between Tarbert and Skye were advised to use the Stornoway Ullapool service until further notice.
Drew Collier, CalMac's operations director said: "We are aware that our customers are experiencing significant inconvenience during this time and we apologise for this.
"Our priority is to safely move Hebrides to Greenock for repairs at the earliest available weather window and to ensure that our passengers are well-informed about the contingencies we have put in place and able to plan with a degree of certainty. The weather, however, is a variable beyond our control and there may be further amendments."