All rows lead to Inverness knitting festival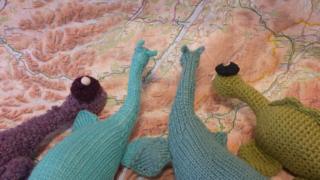 Final preparations are being made for the inaugural Inverness Loch Ness International Knitting Festival.
The event is to run from 29 September to 2 October at Eden Court in Inverness and could attract as many as 3,000 people.
Organisers said knitting experts and enthusiasts from 19 countries had registered to attend.
Since the first announcement of the event last year, knitters have been making woollen Loch Ness Monsters.
The knitted Nessie creations have been sent to the festival's organisers from all over the world to help mark the holding of the inaugural event.
The festival will feature knitting-themed exhibitions, lectures, film screenings, fashion shows and workshops.