Plans to move damaged rig Transocean Winner halted by high winds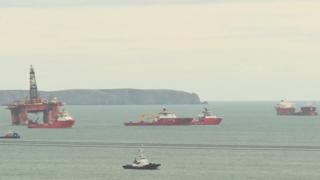 Plans to load the damaged oil rig Transocean Winner onto a giant transportation ship have had to be postponed because of high winds.
Salvage experts had hoped to begin the operation off the coast of Lewis this weekend.
But strong winds mean that moving the 17,000-tonne rig onto the transport ship Hawk will not be possible.
The rig ran aground at Dalmore Bay after breaking free from tow ropes during a storm in August.
It is now sitting at a safe anchorage in Broad Bay on the east side of Lewis after being refloated, and is due to be taken to Turkey for decommissioning.
Government salvage official Colin Mulvana said the weather window they were hoping for this weekend would not be big enough.
He said: "The five-day forecast so far doesn't give us any opportunity whatsoever. Hopefully we will get a weather window in the following week.
"Preparations will continue, they will just fine-tune them. All the plans have been submitted and we are in the process of reviewing and approving them.
"There is potential to test some of the plans over this period when we do have a lull."
Hawk was already in Scottish waters when it was called to Broad Bay, having taken another rig to an anchorage in the Cromarty Firth in the Highlands.
The ship was designed to move rigs and other large marine structures over long distances.
The Transocean Winner has been fitted with air bags to increase its buoyancy. A number of small tugs will be involved in an operation to float it on to the Hawk