Plans to add restaurants to Inverness shopping centre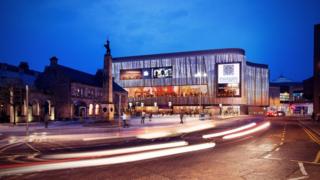 Councillors are being asked to approve plans to expand the biggest shopping centre in the Highlands.
The proposed single-storey extension to the front facade of the Eastgate Shopping Centre in Inverness is for the provision of four new restaurants.
Space for outdoor seating has also been proposed.
Eastgate Unit Trust's plans are to be considered by Highland Council's south planning applications committee next week.
Planning officers at the local authority have recommended that councillors approve the project.
Major alterations to the shopping centre have been proposed before.
Two years ago, Highland councillors gave the go-ahead for an eight-screen cinema and also restaurants.
These new features have so far not been built.