David Collins jailed for possessing guns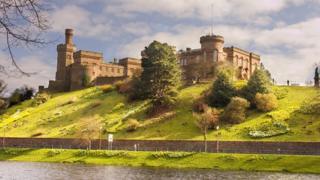 A man has been jailed for three years for possessing guns and ammunition.
David Collins, of Milton, Cromarty, had previously served a prison sentence after he admitted possessing firearms with intent.
His latest offence involved possessing deactivated pistols as well as bullets, a silencer, telescopic sights and air rifles.
Inverness Sheriff Court heard there were concerns 39-year-old Collins knows how to reactivate deactivated weapons.
In 2005, he was imprisoned for five years at the High Court in Edinburgh with a five year extension which he served.
He had admitted possessing firearms with intent.
The charge went on to claim that his family believed he planned to target police, bus drivers and employees of an Invergordon cosmetics firm and others.
'Not a risk'
Inverness Sheriff Court heard that his latest offence came to light after a cargo supervisor at East Midlands Airport carried out an x-ray examination of a suspect package addressed to Collins on 1 June 2016.
The package contained a pistol, two magazines of ammunition, a holster and a deactivation certificate.
Fiscal Roderick Urquhart told the court: "Although he could legitimately possess such articles, this find together with recent intelligence raised a fear that he might be reactivating weapons."
Defence advocate Bill Adam told the court: "Having deactivated weapons is not an offence but, because of his previous conviction, he finds himself here.
"He is not a man of violence and I would say he is not a real risk to the public."
Collins admitted to possessing firearms and ammunition having been a person sentenced to more than three years imprisonment.
The court has ordered the destruction of the weapons.