Ready, steady, Coe: Runners tackle mountain challenges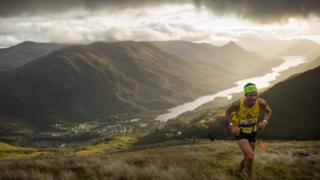 Athletes from across Europe have competed in a series of running events held on some of Scotland's most challenging mountain routes.
The Salomon Mamores Vertical Kilometre, Ring of Steall Skyrace and Glen Coe Skyline were held over the weekend.
The final race, the Glen Coe Skyline, was the third and final event of the 2016 Skyrunner World Series Extreme competition.
The two previous events in the world series were held in Norway and Italy.
Londoner Jonathan Albon, 27, won the men's category of the Glen Coe race in a time of six hours, 33 minutes and 52 seconds. His time was almost an hour less than the course record set last year.
Edinburgh-based runner Jasmin Paris, 32, was the fastest woman with a time of eight hours, 15 minutes and 56 seconds.
The two other races were held earlier in the weekend.
The Mamores VK involved a 1,000m (3,280ft) vertical climb over a distance of three miles (5km) in the Mamores mountains in Lochaber.
Alexis Sévennec, from France, won the men's event in a time of 42 minutes and 17 seconds and Scotland-based hill runner Georgia Tindley the women's in a time of 54 minutes and 34 seconds.
Tindley was also the fastest female in the Ring of Steall Skyrace, which involved a course of about 18 miles (29km), with a time of four hours, 39 minutes and 20 seconds.
Norwegian runner Stian Angermund-Vik was the men's winner after crossing the finishing line with a time of three hours, 25 minutes and 28 seconds.