Inverness holds World Canals Conference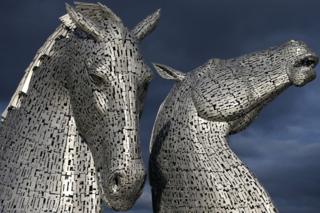 The four-day World Canals Conference has opened in Inverness.
More than 300 experts on the waterways are attending the event which has previously been held in Montreal and New York.
Hosts Scottish Canals said the conference offered a chance to promote Scotland's canals network.
Canal-side features such as the Falkirk Wheel and the nearby Kelpies are also to be highlighted during the international event.
The conference, which is being held in Scotland for the first time in more than a decade, has received funding from VisitScotland's National Conference Bid Fund.
'Absolutely thrilled'
Fergus Ewing, Cabinet Secretary for Rural Economy and Connectivity, said the event presented "the perfect opportunity to showcase the exciting developments" in the Scottish canals network.
He added: "It is also a platform to stimulate cooperation and share know-how among specialists, not just from Scotland but further afield, at a time when the importance of inland waterways is increasingly recognised.
"Conference delegates will also experience the warm Scottish hospitality and the many attractions of Inverness and the Great Glen, something we hope will make them want to return for future visits."
Steve Dunlop, chief executive of Scottish Canals, said: "We're absolutely thrilled to host the World Canals Conference in Inverness.
"Scotland's canals are in the midst of a renaissance and there couldn't be a better time to welcome the world to their banks and showcase the innovative projects, iconic attractions and incomparable experiences of the nation's waterways."