Highlands airports boss in challenge to Boris Johnson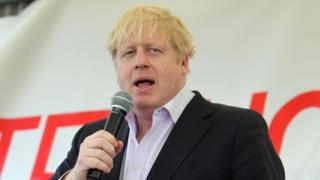 Foreign Secretary Boris Johnson has been challenged to fly to Inverness Airport after describing Heathrow expansion plans as "fantasy" that should be consigned to the dustbin.
Inglis Lyon, from Highlands and Islands Airports, issued the invitation to Mr Johnson in a letter to Scottish Secretary David Mundell.
Mr Lyon is pressing for an extra slot at Heathrow to boost visitor numbers.
Mr Johnson campaigned against Heathrow expansion while he was mayor.
He was recently reported to have said the Heathrow expansion was the "wrong choice" and "simply won't get built" if it is chosen ahead of London Gatwick as the location for a new runway.
Connectivity benefits
He was also said to have claimed that the "massive costs and enormous risks" involved in expanding Heathrow made the project "undeliverable".
"We need to consign this Heathrow fantasy to the dustbin. We need a better solution," Mr Johnson is reported to have said.
In response, Mr Lyon said the Highlands needed another slot at Heathrow and said constraints there were damaging efforts to attract investors and tourists to the north of Scotland.
He said the service between Heathrow and Inverness was the "top-performing domestic route" for British Airways since the airline reintroduced it in May.
And he invited Mr Johnson to fly between the capital and Inverness "so he can see the benefits that such connectivity is providing our region".
Mr Lyon issued the invitation in a letter to Mr Mundell, telling him: "We have a world-class aviation sector in the country but the constraint at Heathrow, our hub airport, is restricting our ability to attract investors and foreign visitors to the Highlands."
The long-awaited decision on whether to expand Heathrow or Gatwick is politically highly sensitive for Prime Minister Theresa May because of divisions in the Tory ranks.
Mr Johnson reportedly made his latest comments after he was excluded from the key cabinet committee that will make the decision.
Mr Lyon called on the Scottish secretary to "confirm that the foreign secretary's view do not reflect the views of your government".