Transocean Winner's transport Hawk arrives off Scotland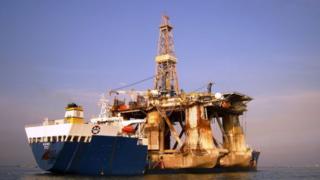 A semi-submersible ship that will transport the stricken rig Transocean Winner from Lewis to Turkey has arrived off the Scottish coast.
Offshore Heavy Transport's vessel Hawk is heading for Invergordon with a rig to be anchored in the Cromarty Firth.
Later the ship will leave the Highland firth and go to the Western Isles where the drilling rig Transocean Winner is anchored off the east coast of Lewis.
The rig ran aground on the island in a storm in August.
It was being towed from Norway to Malta, from where it was to be moved to Turkey to be scrapped, when it and the ship towing it were hit by a storm off the Western Isles.
The tow line broke and the rig ran aground on the beach at Dalmore, near Carloway on the west side of Lewis.
It was later moved off the beach and towed to Broad Bay where it awaits transport to Turkey.
A number of small tugs will be involved in an operation to float it on to the Hawk.
Hugh Shaw, an official overseeing the salvage operation, said the Hawk could arrive in Broad Bay on, or about, 20 September.