Government 'committed' to mountain weather forecasts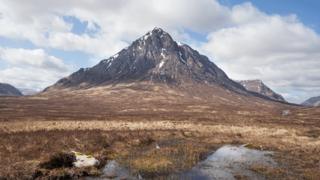 The minister for public health and sport has said the government is committed to assisting in providing mountain weather forecasts.
Aileen Campbell made the comment in answer to a question from Scottish Green MSP Andy Wightman on the future of a service that compiles forecasts.
The Mountain Weather Information Service (MWIS) has concerns that its public funding is at risk.
Ms Campbell said discussions were being held on building a "resilient service".
Scottish government body sportscotland has already sought to reassure climbers and hillwalkers on the future of mountain weather forecasts.
In a statement issued on Monday, sportscotland said a forecasting service would continue for the long term.
'Vital forecasts'
Climbers and hillwalkers check MWIS forecasts before heading into Scotland's mountains and hills.
Speaking in the Scottish Parliament, Ms Campbell said mountain weather forecasts were "critical" to ensuring people's safety.
She said: "The mountain weather information service has delivered an excellent service over the years and provided an accurate and essential service to all who use Scotland's mountains.
"Sportscotland has been involved with the Met Office and with MWIS about building a resilient mountain weather forecast provision for Scotland.
"We're committed to ensuring that everyone can continue receiving these vital forecasts, building on the skills and expertise that are within MWIS."
The minister said that in the short term sportscotland and her officials would continue discussions with MWIS over the provision of its service, while a "sustainable forecast" was developed.
'Active role'
In its latest statement on the matter, sportscotland said the provision of a high-quality weather forecasting service "will continue and was always going to continue".
It went on: "Sportscotland will discuss with MWIS the provision of their service through this coming winter to ensure this familiar forecast format is available at a time when participation within the Scottish mountains peaks.
"Future developments into the provision of mountain weather forecasting will continue to be considered with the Met Office and it is hoped that MWIS will return to play an active role in these discussions."
The public body has provided funding for mountain weather forecasting since 2007 and avalanche hazard forecasts since 1988.
It began looking at the future shape of the weather service in June 2014, when it said MWIS "raised concerns into the future long-term sustainability of the existing service".
Discussions were held with MWIS and the Met Office and last year sportscotland commissioned a survey aimed at at understanding the current and future needs of users of the service.