Radioactive liquid waste work at Dounreay completed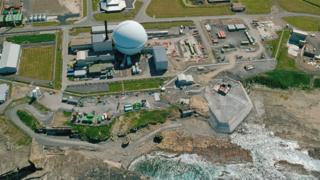 Radioactive liquid waste at the Dounreay nuclear power site has been made safe, according to a team working on decommissioning the plant.
The liquid called raffinate arose from reprocessing at the Dounreay Fast Reactor at the complex in Caithness.
It was immobilised by mixing it with cement powder inside 875 500-litre drums, which will be stored on-site.
The team has now begun preparations to deal with raffinate in Dounreay's Prototype Fast Reactor.
The Nuclear Decommissioning Authority has described the completion of the DFR work as "a milestone" in the wider project to decommission the power plant near Thurso.
The drums of cemented waste will be stored at Dounreay until a decision is made in the future on how it should be disposed of.