Surveys to look for sharks and whales in Sea of Hebrides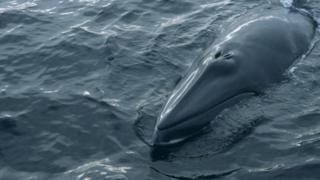 Surveys are to be made of the Sea of Hebrides for large marine animals, according to Marine Scotland.
Scottish Natural Heritage (SNH) has commissioned the work which will include taking ultra-high resolution digital video of marine life.
Basking sharks and whales are among the wildlife the survey team will looking for.
The sea has been proposed as a Marine Protected Area (MPA) by SNH and the Joint Nature Conservation Committee.
The surveys will add to work already done in the planning for the MPA, and will also act as a pilot of methods for surveying for large marine animals.
The Sea of Hebrides stretches from the east coast of the Western Isles to Skye and Mull.