Crofting Commission chief to take up government post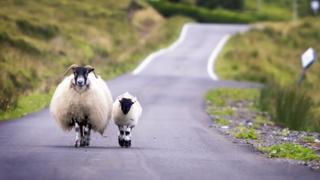 The chief executive of crofting's public regulatory body is to leave to take up a promotion within the Scottish government.
Catriona Maclean has been at the Crofting Commission for more than three years.
She will take up the position of deputy director of the government's Food, Drink and Rural Communities Division next month.
Ms Maclean said she was delighted with the promotion.
She said: "The food and drink sector covers a wide range of industries and creates both jobs and wealth for Scotland.
"It also has an impact on health and sustainability and I look forward to working with stakeholders to ensure the sector maximises its impact.
"That said, it is not without a great deal of sadness that I leave the Crofting Commission and my staff who are all dedicated to providing an excellent service to crofters."
Ms Maclean, who also thanked crofters for their support in her time at the commission, said the government was taking steps to fill the chief executive post.
The Crofting Commission is a non-departmental public body which operates independently of the government, but for which Scottish Ministers are ultimately responsible.
The body is responsible for regulating and promoting the interests of crofting.
This year, the commission has been involved in a public row with crofters on parts of Lewis about the running of common grazings, areas of land shared by several crofters for raising livestock.