Dramatic evening sky pictured from the Highlands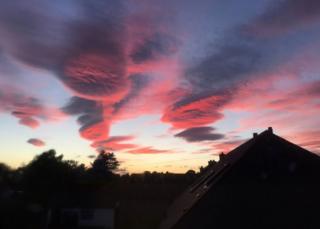 People from across the Highlands have captured images of Monday evening's dramatic sky.
The striking cloud formations and colours could be seen from Inverness, the Black Isle, Invergordon, Thurso and Nairn.
The spectacular sunset was also visible from places in Moray, including Forres.
Eye-catching sunsets and sunrises have frequently been seen over the last few days during a spell of warm, fine weather.
The clouds seen from Inverness, Nairn and Invergordon were altocumulus lenticularis, according to the Met Office.