Muddy puddles: Pictures from Loch Ness Beast Race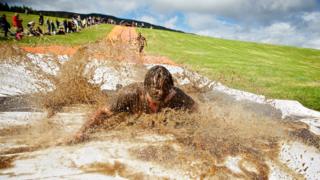 Hundreds of people have taken part in an obstacle race held annually near Inverness.
The Prime Four Beast Race challenged entrants to complete a 10km course which involved climbing over and under obstacles, including muddy streams.
The course was laid out in fields and woodland near Loch Ness with the race being held on Saturday.
Another Beast Race is to be held near Banchory in Aberdeenshire on 24 September.