Bear Scotland feels the love for Del ♥ Kelly graffiti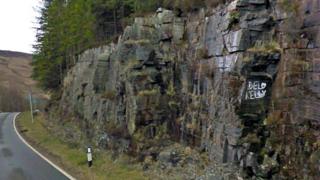 Graffiti first painted on roadside rocks in the 1970s but recently painted over by Bear Scotland will be left untouched if it reappears.
The love note "Del ♥ Kelly" had been visible from the A835 near Ullapool before the trunk roads maintenance company acted on a complaint about it.
The message was repainted by persons unknown before being blocked out again.
Bear Scotland, facing a petition opposing it actions, said it would not be removed if it reappears again.
A spokesperson for the company said: "We work hard to maintain the routes we manage across the north west to the highest possible standards and after a public complaint, we removed the graffiti in line with our contractual obligations.
"However, the note is clearly significant to the local community and it will not be removed should it reappear."
So far, more than 270 people have signed the petition called "Del ♥ Kelly! Give the Highlands some love on the rocks! BEAR Scotland, show some heart!"
As well asking for the graffiti to be restored it asks Bear Scotland to instead focus attention on what the petition's organisers say are more serious problems on the road.
Ullapool hit the headlines last year for another piece graffiti on the A835.
Last August, a phrase with strong language was sprayed next to a pothole in the road where it passes through the town.
Highland Council said at the time that graffiti should not be used as a means of alerting it to potholes.