Mid-point reached in A9 Inverness-Dunblane cameras survey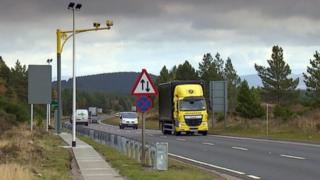 The mid-point has been reached in a three-year evaluation of the effectiveness of average speed cameras on a stretch of the A9.
The network runs from near Inverness to Dunblane and went live in October 2014.
Transport Minister Humza Yousaf said the latest figures show that the cameras had continued to play a part in making the road safer.
The figures for the first 18 months of the project show there were eight fatalities on the stretch involved.
The deaths occurred in accidents between Inverness and Perth. There were no fatalities on the A9 from Perth to Dunblane.
Eight people were seriously injured in accidents between Inverness and Dunblane in the first 18 months of the camera system.
In previous years, there were nine fatalities and 19 people seriously injured in 2011, eight died in accidents and 21 were badly hurt in 2012 and there were seven fatalities and 20 people seriously injured in 2013.
The A9 Safety Group, whose partners include Police Scotland, Highland Council and Road Safety Scotland, said on average the total number of people killed, seriously and also slightly injured has fallen by 50%.
Mr Yousaf said: "Safety is an absolute priority and every road death is one too many.
"The latest A9 Safety Group figures indicate the route is much safer since the average speed cameras were introduced."