Dundonnell MRT pay tribute to James Edwards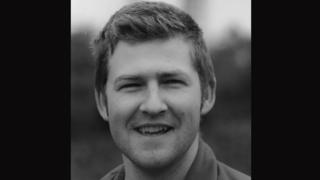 A mountain rescue team has paid tribute to one of its members who died after falling in a remote part of the Highlands earlier this month.
James Edwards was setting up a radio relay station on the Munro, Ruadh Stac Mor, for charity event The Great Wilderness Challenge when he slipped.
Dundonnell Mountain Rescue Team said Mr Edwards was seriously injured but still managed to set off a locator beacon.
The team said his rescue work, humour and stories were "much missed".
It said Mr Edwards, a father-of-two, was well-known in the Scottish climbing community. He died in hospital following his rescue in difficult weather conditions.
He had been ascending 918m (3,011ft) Ruadh Stac Mor on 12 August when he slipped and fell.
His personal locator beacon provided a precise location for rescuers.
A spokesman for Dundonnell MRT said: "This information was passed to the team and enabled us to locate James as quickly as we did - but even then this took some six hours to achieve due to the distances we had to walk with bulky rescue and medical kit.
"We were very pleased to have had assistance from colleagues in neighbouring Torridon MRT in undertaking this call-out."
'Poor weather'
A coastguard helicopter crew was also asked to assist in the rescue.
The spokesman said: "At this stage, the rescue helicopter was unable to get to his position due the very poor weather conditions.
"Team members reached James in the early hours of Saturday and were able to render immediate emergency medical care, making him as comfortable as possible prior to getting ready to completely immobilise James for the helicopter's arrival and preventing any further injury.
"At first light James was stretchered down to a position where it was possible for the helicopter to lift him out despite testing conditions. We are very grateful to the crew of HM Coastguard helicopter Rescue 948 for their persistence and for their returning later to collect the very tired team."
In paying the team's tribute to Mr Edwards, the spokesman said: "Having climbed all over the world, James was well-known in mountaineering circles.
"Upon joining the team in 2013 he quickly brought his experience to bear, making a significant contribution to our activities.
"James subsequently trained to become one of the team's emergency medicine technicians and took part in a number of call-outs, including a memorable and successful one at Torr Achility, close to home.
"His climbing stories and sense of humour will be much missed by us all. Our heartfelt thoughts are with his family."
A private celebration of Mr Edwards's life is to be held on Saturday, with funds being raised for Dundonnell MRT.