'No pollution' after Transocean Winner oil transfer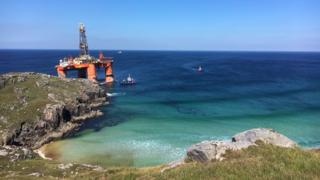 Salvage experts have successfully transferred diesel oil on a 17,000-tonne grounded rig from pontoon tanks to a safer position above sea level.
Coastguards said no pollution from the oil transfer had been detected.
The plan now is to transfer the oil to a supply vessel within the next 24 hours.
The Transocean Winner came ashore at Dalmore on Lewis during a storm almost two weeks ago. It was being towed from Norway to Malta.
It is possible that an attempt will be made on Monday to refloat the drilling rig. Preparations for that attempt are continuing, with more equipment being put on board by tugs and helicopter.
Salvors have also started the process of pressurising the ruptured fuel and ballast tanks in the pontoons at the bottom of the rig to improve its buoyancy.
A spokeswoman for the Maritime and Coastguard Agency said a decision would be made on Sunday morning about whether the operation to refloat the rig would start within the next 48 hours.
A temporary exclusion zone of 300m remains in place around the rig.
Hugh Shaw, the Secretary of State's Representative for Maritime Salvage and Intervention, said: "I have a meeting with Transocean and Smit Salvage tomorrow morning and I would expect that when we end the meeting we will have made a decision whether we are going to attempt the refloat over the following 24 hours or whether it will be slightly longer."
Over the past few days equipment to improve the buoyancy and stability of Transocean Winner has been brought on board the structure.
More than 12,000 gallons (56,000 litres) of diesel oil were lost from two tanks on the Transocean Winner after it came ashore. The fuel is said to have evaporated and not caused a pollution incident.
Tens of thousands of gallons of the fuel remain in other tanks on the decommissioned rig.
Once refloated Transocean Winner would be towed to a nearby location at sea for further checks for damage.