Furry service: Orphaned otter on Skye ferry to hospital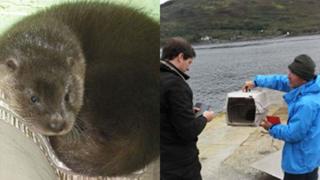 A baby otter has been taken into the care of a wildlife hospital after its mother was knocked down and killed on a west Highlands road.
The 12-week-old cub found in Glenelg is being looked after by the International Otter Survival Fund (IOSF) at its sanctuary in Broadford on Skye.
Orphaned otters are usually taken to the IOSF site by road across the Skye bridge.
But the latest cub arrived on the isle by a small car ferry from Glenelg.
The boat, MV Glenachulish, is the world's last sea-going, manually-operated, turntable ferry.
The 46-year-old ferry operates between Glenelg on the north west Highlands mainland and Kylerhea on Skye. It is the oldest crossing to the isle from the mainland.
Grace Yoxon of IOSF said: "The cub is about 10-12 weeks old and is eating fish.
"Once he has been through a period of quarantine he will be introduced to Ganga, another cub of the same age which is now outside in a nursery pen."
The cubs will stay at the Broadford otter hospital until they are about a year old, as this is when they normally leave their mothers.