Loch Ness record-setting kayakers to paddle River Spey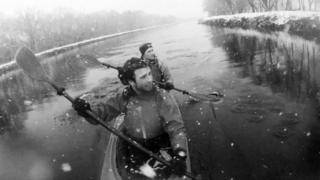 Two friends who set a new Guinness World Record for the fastest crossing of Loch Ness by tandem kayak last year are preparing for a new challenge.
Ted Simpson, 22, from Manchester, and James Reilly, 22, from Guernsey, paddled down the loch in four hours 43 minutes and 43 seconds.
This month they hope to kayak 74 miles (120km) of the River Spey from Kingussie to Spey Bay.
They aim to set a new time of less than 13 hours for the challenge.
The bid on 24 August, which will take the kayakers from the Highlands to the Moray coast, will raise money for the Cystic Fibrosis Trust.
The duo's time for the 23 mile (36km) crossing of Loch Ness beat a previous time of five hours and 19 minutes.