Full assessment of Transocean Winner still to be made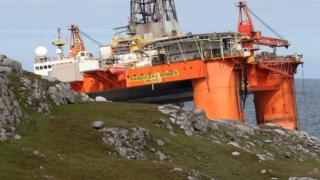 A "comprehensive assessment" of the state of a rig grounded on a Lewis beach has still to be made, an official overseeing its salvage has said.
Transocean Winner ran aground at Dalmore beach on Monday and has lost more than 12,000 gallons (56,000 litres) of diesel oil from fuel tanks.
Hugh Shaw said a full assessment was needed before the rig could be moved.
Bad weather has prevented a team of eight salvors from following up a visit made to the rig on Tuesday.
Mr Shaw, the Secretary of State's representative for Maritime Salvage and Intervention, who is overseeing the salvage operation, has told BBC Scotland that a suggestion the rig could be moved next week was "highly unlikely".
The Maritime and Coastguard Agency said efforts would continue to try and airlift the team of salvage experts on to the rig.
It said once on board, the squad would be able to carry out a further damage assessment and inspect the Transocean Winner's emergency generator to establish what power is available.
Mr Shaw said: "There needs to be a comprehensive assessment of the state of the rig before a salvage plan can be drawn up and put into place."
An exclusion zone remains in place around the rig.
The Transocean Winner was being towed from Norway to Malta from where it was to be moved to a yard in Turkey to be broken up.
A tow line between the rig and a tug broke during stormy weather and the structure ran aground at Dalmore at about 07:30 on Monday.