Prince Charles umpires tug o'war at Mey Highland Games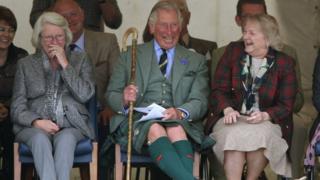 Prince Charles has umpired a tug o'war competition during a visit to the Mey Highland Games.
The Duke of Rothesay, as he is known when in Scotland, attended the event in his role as chieftain.
He watched traditional Highland games competitions such as the three-legged and egg and spoon races. He then presented a trophy to the winning tug o'war team.
About 400 people attended the games on Saturday.
It is usually staged in a field nearby to Castle Mey, the late Queen Mother's Scottish home in Caithness, but was instead held at a field in John O'Groats due to the usual setting being water-logged.
Prince Charles drove to the event himself and was wearing traditional Scottish dress.
He appeared to be in high spirits whilst watching a mock horse dressage with participants prancing around on a wooden hobby-horses.