Basking sharks appearing 'in good numbers'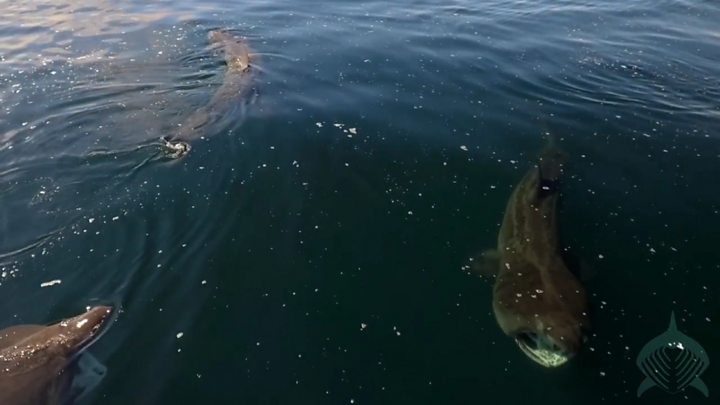 Basking sharks have been appearing in "good numbers" around Coll and Tiree, a wildlife tour operator has said.
Oban-based Basking Shark Scotland said the large fish have been drawn to the surface to feed on plankton in a period of calm and sunny weather.
Mull-based Hebridean Whale and Dolphin Trust (HWDT) had earlier said it had received lower than usual reports of sightings of the sharks.
It believed the animals were still present in its area but deeper down.
The trust suspected unsettled weather had resulted in sharks feeding deeper in the water column.
July is the peak season for sightings of basking sharks, the world's second largest fish after the whale shark.
'Variable spring'
Basking Shark Scotland said in the last few weeks it has had more than 50 basking shark sightings and 200 for the year so far.
Owner Shane Wasik said "Although it has been a variable spring and early summer for the basking sharks, the peak season has been no different to previous years."
Basking sharks are the world's second biggest fish - the whale shark is the largest - and can grow to 11m (36ft) and weigh up to seven tonnes.
They have no teeth and feed on microscopic plankton by opening wide their huge mouths.
Every summer the sharks gather in large numbers around small islands off Scotland's west coast where they are sought out by scientists and wildlife watchers.