'Few sightings' of basking sharks off Scotland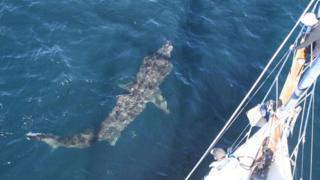 Sightings of basking sharks, the world's second largest fish, have fallen this year, according to the Hebridean Whale and Dolphin Trust.
The Mull-based organisation has recorded 11 reports involving 15 sharks while far larger numbers of sightings have been made in previous years.
HWDT's Morven Russell said one reason could be that plankton, the sharks' food, was in deeper water.
She said the fish could still be present but out of sight.
Ms Russell said: "It is a very poor year for sightings of basking sharks - it may have a lot to do with the weather.
"Where it has been unsettled the plankton on which they feed may not be coming to the surface.
"They may be here but lower down in the water column - we just don't know at this stage."
No teeth
Basking sharks are the world's second biggest fish - the whale shark is the largest - and can grow to 11m (36ft) and weigh up to seven tonnes.
They have no teeth and feed on microscopic plankton with their huge, wide-open mouths.
Every summer the sharks gather in large numbers around small islands between Skye and Mull off Scotland's west coast.
They are also off the islands of Coll, Tiree and Hyskeir before later migrating south to waters around Madeira and the Canary Islands off west Africa.
In 2013, HWDT reported an increase in encounters with basking sharks.
Fifty sharks were counted over just nine days.
Up until 20 years ago, basking sharks were hunted in the seas off Scotland for their liver oil.