Cowes cerebral palsy adventurer tackles Cairngorm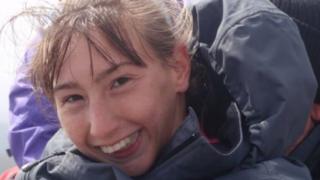 A teenager with cerebral palsy who has been recognised for her achievements at sea has walked to the summit of Cairngorm mountain in the Highlands.
Natasha Lambert, 17, from Cowes, Isle of Wight, used a special walker to tackle the peak.
Last year, she was recognised by the Queen with a BEM after sailing solo around the Isle of Wight, across the Channel and from Cowes to London.
Her boat, Miss Isle Too, can be steered by sucking and blowing into a tube.
A support team that included members of her family and Mountaineering Scotland safety officer Heather Morning joined Natasha on her Cairngorm trek.
The teenager was born with atheroid cerebral palsy which affects her limbs and speech.
Her walk formed part of an expedition which involves sailing Miss Isle Too from Inverness to Glasgow.