Renewed effort to halt Australian family's deportation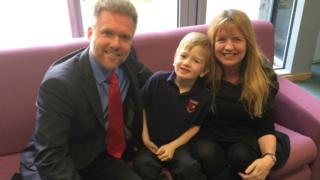 Renewed efforts are being made to find Kathryn Brain, who with her family face deportation to Australia next week, a job.
An offer of a temporary post at a business near Dingwall made in May has not met visa requirements.
She has applied for an advertised post at the same firm but the business is awaiting information on how her application fits with immigration law.
SNP MP Ian Blackford said "time was of the essence" for the family.
The emphasis is on Mrs Brain securing employment because it was her visa that facilitated the family's move to the UK about five years ago.
Mr Blackford, MP for Ross, Skye and Lochaber, has been campaigning on behalf of the Brains.
He told BBC Scotland that it was "disappointing" that the offer of work at distillery business GlenWyvis that was made in May had not worked out.
He said his "first concern" now was to help Mrs Brain to find a job that was compliant with visa requirements, but "time was of the essence" as the family face deportation on 1 August.
Mr Blackford added: "We have got a family here that wants to stay and has got a lot to offer to the Highlands."
'Highly relevant'
The businessman who offered the temporary job to Mrs Brain told BBC Scotland he has been trying to help their situation.
John McKenzie offered Mrs Brain a temporary post at GlenWyvis.
However, it later transpired that the administrative role did not fit with the requirements of a UK Tier Two visa.
GlenWyvis is now trying to find out how immigration law applies to Mrs Brain's application for another advertised role at the business, which has raised money through crowdfunding to build a distillery near Dingwall.
Mrs Brain along with 40 others have applied for the one-year history curator post.
Mr McKenzie, who said he had been criticised in the media for not giving a job to Mrs Brain, said every application for the job had to be, and would be, considered fairly in line with employment law.
He said he had sought information from SNP MP Ian Blackford, the family's solicitor and the Home Office on how Mrs Brain's application should be considered in terms of immigration law.
A letter dated 4 July and "highly relevant" to her application was not received late on 16 July by email from Mr Blackford, said Mr McKenzie, who added that he had asked the MP for an explanation to the delay.
Mr McKenzie said: "After seeing the family with their young son in the news I wanted to try and help.
"The first job, an administrative role, was only for two months because at the time we did not know if we would be able to raise enough money for the business.
"It turned out that the post did not fit with a Tier Two visa anyway, but it did help the family get a two-month extension to their stay."
He added: "At the moment we are in the process of trying to get more information, but I want every single one of those 41 people who have applied for the curator post to know that every one them will be treated in a fair and compliant manner."
Temporary extensions
Mr and Mrs Brain moved to Dingwall in the Highlands with their son Lachlan, now seven, in 2011.
They moved from Australia on Mrs Brain's student visa, but the post-study visa scheme was later withdrawn.
The Scottish government initiative, formerly supported by the Home Office, was designed to attract people to live and work in the Highlands and Islands.
The announcement of the discontinuation of the post-study work visa scheme came in March 2011, just three months before the Brain family arrived in Scotland.
However, they had been accepted for the scheme in 2010 and were unaware of the changes until 2012.
The couple have since had temporary extensions to their stay in the UK.
In May, they were told they could stay until 1 August, but that they would not be allowed to work.