Six pack: Highland Wildlife Park shows off its wolf haul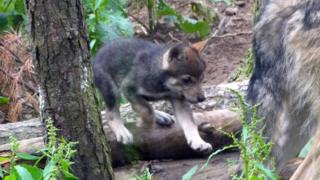 Six wolf pups have started venturing from a den in an enclosure at the Highland Wildlife Park at Kincraig near Aviemore.
The pups were born on 3 June and are being raised by their parents Ruby and Jax.
It is the latest litter of European wolves, a subspecies of the grey wolf, to be raised at the park.
Previously, pups were born at the zoo in 2013 and Ruby was born at the site in 2012.
Ruby's siblings went on to join other collections as part of a European wolf management programme in the UK.
Douglas Richardson, head of living collections at the Royal Zoological Society of Scotland-run park, said: "We are really pleased about the birth of the six wolf pups.
"This is the first time Ruby has had pups and she is proving to be an excellent mother.
"The pups are doing very well and are slowly starting to wander from the den, although they are still quite shy and always remain close to their mother's side."
The pups will be given names once keepers know which are male and female.
In the wild, European wolves are found throughout Scandinavia. Some are also found southern and eastern Europe and western Russia.
Wolves were hunted to extinction in Scotland in the 1740s.
The park has had wolves in its collection for many years.
Six years ago, a wolf managed to escape its enclosure and get into another one. It was recaptured within an hour and there was no risk to the public.
In 2006, a pack of six Mackenzie River wolves - a North American wolf - which had been a feature of the park since 1972 was put down.
RZSS said the decision was taken because the animals were "not portraying their natural behaviour".