Funds secured for remote Coigach and Assynt project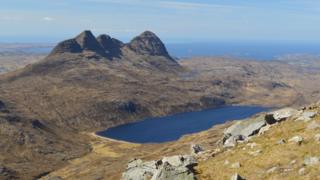 Heritage lottery funding has been secured for a project covering some of the remotest parts of Scotland.
The Scottish Wildlife Trust (SWT) has received £2.9m for the Coigach-Assynt Living Landscapes Partnership.
The areas of Coigach and Assynt include large expanses of wild land and wildlife such as golden eagles, otters and freshwater pearl mussels.
The partnership has a five-year plan to restore landscapes and regenerate areas of native woodland.
Some of the funding will be used to support the excavation and preservation of Clachtoll Broch, the site of an Iron Age settlement.