Long-lived guillemot found on Isle of Canna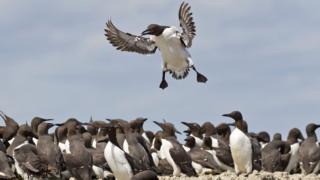 A guillemot has been found to have survived for 38 years on Canna in the Small Isles.
The seabird was identified by the ring it was fitted with when it was a chick in 1978.
The Canna Ringing project started 48 years ago and rings seabirds to monitor the health of colonies of guillemots, razorbills, shags and kittiwakes.
The project's Simon Foster said it was "incredible" to find a guillemot to have lived for so long.
The 38-year-old bird was indentified in the latest survey of Canna's seabirds.
Guillemots of 34, 35 and 36 years old were also recorded.
'Not easy'
Mr Foster told BBC Radio's Good Morning Scotland programme: "It is incredible to think that a guillemot has survived this long.
"They live in noisy colonies that don't smell particularly nice and they live offshore for the winter, which is not easy."
He joked that the older birds were found to be in a "better condition" than some of the humans surveying them.
The ringing project is supported by National Trust for Scotland and Scottish Natural Heritage.
Earlier this year, a seabird ringed on the Shiant Isles in the Western Isles set a new European birding longevity record before it died.
The shag, which was 31, was fitted with a ring on 30 June 1985.
Ornithologists lost track of the bird until it was found dead on the Shiants on 26 April.
After checking records, the British Trust for Ornithology (BTO) said it was oldest ringed shag in Britain, Ireland and Europe.