Jobs could go at QinetiQ-run Hebrides Range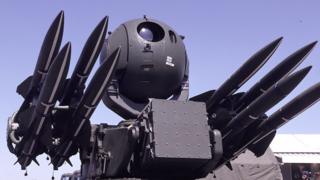 Jobs could be cut at the UK's largest missile range, BBC Alba understands.
It is thought 19 of the 148 posts at the Hebrides Range are to be looked at as part of UK-wide review by Ministry of Defence (MoD) contractor QinetiQ.
The company, which operates the Western Isles range, has sought to reduce its UK workforce of 6,210 by about 200.
Of the 19 jobs believed to be under threat in the Western Isles, six could go completely with the others transferred to other locations.
In 2009, the UK government proposed job cuts at the Hebrides Range and its associated sites in the islands before the plan was abandoned.
It had been proposed to cut 125 jobs as part of a wider programme of defence savings aimed at reducing MoD costs by £40m.
The range's command and control centre on South Uist was to close and rocket tests run remotely from South Wales.
Staff were also to be pulled out of the range's tracking station on Hirta, St Kilda, and West Camp on Benbecula was to be downgraded.
Into space
The range offers the largest area in the UK for the live-firing of rockets and missiles. Weapons fired at the range include the Rapier ground-to-air system.
In October last year, a rocket fired from range became the first vehicle to be launched into space from UK soil.
QinetiQ has made a statement on its review of its UK workforce, but has not said how it affects its staff on the Western Isles.
A QinetiQ spokesperson said: "We have completed an outline design for QinetiQ that puts the right people with the right skills in the right place to deliver for our customers.
"It creates a number of new roles but will result in a net reduction of around 200 roles across QinetiQ - approximately 3% of our total workforce of 6,210 - achieved through a number of measures, including attrition and some redundancies.
"We are committed to doing everything we can to protect employment, supporting those affected to redeploy them into new roles where possible.
"Our priority is to discuss the changes with individual employees across our sites."
A consultation period will run for six weeks and the company said that until that process was completed it was not possible to give details of the numbers of redundancies at any specific site.