Knitted yellow jersey for Harris Tweed ride winner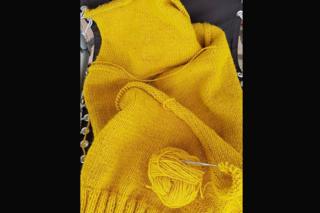 A Tour de France-style yellow jersey is to be awarded to the winner of the Isle of Lewis's first ever Harris Tweed Bike Ride.
The tweed ride's jersey has been knitted by Harris-based knitter Joan Macleod using yarn donated by the Carloway tweed mill on Lewis.
The event forms part of Stornoway-based An Lanntair arts centre's Harris Tweed Festival Day on 13 August.
Harris Tweed bike rides involve riders wearing head-to-toe tweed.
Ms Macleod, a knitter at fabrics businesses Island Stitches, said making a Tour de France-style yellow jersey was one of her more unusual orders.
She said: "When I was commissioned to knit the sweater I thought it was such a fun thing to do that I offered the sweater as a donation from us at Island Stitches, who use 'bobban' yarn for all our knitwear commissions.
"The bobban yarn was kindly donated by Carloway Mill when I told them what I'd be using it for."
The yellow jersey is among the best known of the Tour de France's honours.
The rides have been popular for about seven years and have taken place in Glasgow, Stockholm in Sweden and Moscow in Russia.
In May this year, up to 1,000 people dressed in Harris Tweed garments took part in the annual London Tweed Run.
The event, which took in the major landmarks, is described as a "bicycle ride with a bit of style".
Up to 50 riders are due to take part in Lewis's first event and will follow a route around Stornoway.
Harris Tweed is hand-woven in the Western Isles with wool yarn from island sheep.
It is protected from imitations by the industry's orb trademark.