New book challenges 'Victorian ideas' of the Highlands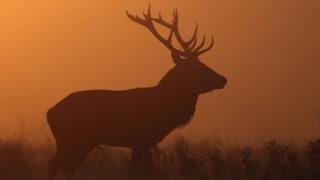 Two writers have sought to challenge public perceptions of the Highlands and Islands.
Rab MacWilliam, co-author of Where Seagulls Dare, said Victorian-era notions of the region persist today.
He said the area was more complex than the Victorians' romantic idyll of "noble stags" and "shining heather".
Mr MacWilliam said that he and co-writer and journalist Iain MacDonald had focused on less well-known places and stories.
The twinning in 2012 of the tiny west Highland community of Glenelg with a location on the planet Mars with the same name features in the book.
Gold panning
Other chapters deal with the long tradition of panning for gold in Helmsdale in Sutherland and the histories of Tain, Dornoch and Beauly.
The book's title is a play on words of thriller writer Alistair MacLean's book Where Eagles Dare, which was published in the 1960s. MacLean grew up in Daviot, near Inverness.
Mr MacWilliam told BBC Radio Scotland's Out for the Weekend programme: "What we are stressing in the book is the diversity of the Highlands.
"What most visitors are told, or what comes across, is the 'Highlandism', which is the noble stag and the hillside and the land of shining heather. This was all a Victorian invention.
"The Highlands is a very, very complex and diverse region, and a beautiful region."
Long-time BBC Scotland reporter and broadcaster Mr MacDonald, who was born in Stornoway, Lewis, and Mr MacWilliam, who is from Inverness and now lives in London, said they believed their book's title was an "appropriate pun" given Where Eagles Dare's link to the Highlands.
Mr MacWilliam added that there was another reason for choosing Where Seagulls Dare.
He said: "Parts of the Highlands are full of raptors.
"In Assynt, there are 215 different birds species apparently and most of them are hawks, buzzards and eagles and no right minded seagull would even contemplate going there."