Drivers risk collisions at Aviemore railway crossing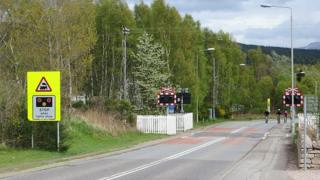 Motorists have been failing to stop for lights at a railway level crossing before driving in front of a steam train that operates on the line.
Police Scotland said there had been a number of similar incidents at the crossing in Aviemore's Dalfaber Drive over the past week.
Strathspey Railway runs a steam train between Aviemore, Boat of Garten and Broomhill.
Police said the motorists were committing an offence.
Insp Fiona Wemyss said: "Over the last week there have been a number of incidents and near misses at the railway level crossing on Dalfaber Drive where motorists have failed to obey the red flashing stop signs and crossed the railway line in front of the approaching steam train.
"This practice is a serious danger to the safety of road users and also to passengers and staff on the train. Those caught offending will be prosecuted."