UK government to meet cost of Orkney-based tug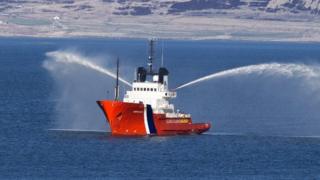 The UK government is to meet the cost of providing an Orkney-based emergency towing vessel (ETV).
Funding for the Herakles, which is the last of four emergency towing vessels based around the UK, was due to end in September.
The service was introduced following the grounding of the tanker Braer in Shetland in 1993.
UK Transport Minister Robert Goodwill said the "absolutely critical" tug would be funded for five years.
The vessel has been given a number of stays of execution since plans to scrap it were announced six years ago.
'Pollution prevention'
Mr Goodwill had asked the Maritime and Coastguard Agency to look at alternative options for towing provision beyond September.
However, after concerns were raised by Orkney, Shetland and Highland councils, along with Highlands and Islands MPs and MSPs about the potential loss of the service, Mr Goodwill said there was "a strong case" for government to step in.
He said: "This service is absolutely critical to ensuring emergency services can respond swiftly to incidents off the coast of Scotland.
"We have taken this decision following extensive consultation by the Maritime and Coastguard Agency. This is an important measure to ensure maritime safety and pollution prevention measures in the waters around Scotland."
The government said that under a new contract, the MCA would seek to recover costs of the tug from the shipping industry wherever possible and, in the longer term, explore opportunities for the vessel to take on low-risk commercial work.
The announcement comes after Orkney and Shetland MP Alistair Carmichael said the tug would be a "permanent fixture".
He told the BBC: "It remains to be seen the basis on which this is to be funded, but it will be funded from government expenditure and it will be a permanent fixture.
"I have to say this is really good news. We've had to fight this battle long and hard and more times than anybody ought to have done.
"But to have got this decision, which is absolutely the right one, is only to be welcomed."
Until 2012, Scotland had two ETVs available for towing ships that had grounded or broken down on Scotland's north and west coasts.