Fort Augustus woman who used electric collar on boy jailed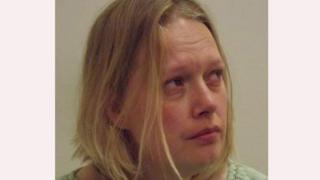 A woman who gave a young boy electric shocks using a dog training collar has been jailed.
Former soldier Lanna Monaghan also subjected the child to cold showers, bit and kicked him - and hit him so hard with a wooden spoon that it broke.
Monaghan, formerly of Fort Augustus, told police she had a temper and could "zone out" and be "out of control".
The 34-year-old has been jailed for three years and four months.
She had claimed to social workers that she had been pressurised by her mother to use the dog training device.
But this suggestion was not accepted by the Crown.
Sentencing Monaghan at High Court in Glasgow judge Lady Rae told her: "You have pleaded guilty to a catalogue of offences over a 15-month period involving a young child who was aged two to three.
"He did not suffer lasting physical effects, but it is impossible to determine what the emotional impact on this little boy will be."
'Deliberate attacks'
Lady Rae told Monaghan, who is pregnant, that she did not believe the attacks were because of her losing her temper.
The judge said: "These were deliberate attacks on the child and appeared to be punishment for not eating his food or urinating on the floor."
Referring to the dog training device the judge said: "I can't see how any right-minded person would use such an instrument on a dog, never mind a child.
"I can't believe you were encouraged to do this by a family member especially when it was that family member who reported you to the authorities.
"This defenceless little boy must have been terrified of you. You must have known what you did was wrong. Your victim was utterly unable to defend himself."
In May, the High Court in Edinburgh heard that Monaghan had seen the electric training collar being used on a dog and told the pet owner: "If it works on a dog it will work on kids."
The abuse ended when the boy was aged three after a concerned woman contacted the authorities.
Wooden spoon
Monaghan admitted five charges of assaulting the boy at addresses in the Highlands in 2014 and last year.
She admitted repeatedly fixing a dog collar with an electric shock device attached around his neck and inflicting shocks on him in July last year.
The private hire car employee also admitted forcibly placing him in a shower and turning it on and off while kicking the boy on the body.
Monaghan, who served in the Army for nine years, also admitted biting him on the ear and repeatedly striking him with a wooden spoon.
The court heard that she had initially denied to the authorities that she gave the toddler electric shocks with the dog training collar,
But she later claimed that she had picked up the device during a visit to another woman's home.
She gave three shocks in quick succession to the boy's neck because he had refused to swallow a mouthful of food.
'Harrowing case'
Police Scotland has welcomed the sentence.
Det Insp Nicola MacKenzie said: "This particularly harrowing case has thankfully reached a conclusion.
"Officers and partner agencies investigating the dreadful consequences of Monaghan's actions are to be commended for their thorough and sensitive approach, resulting in the victim's physical ordeal swiftly coming to an end and Monaghan's subsequent arrest.
"The cruelty demonstrated by Monaghan will understandably shock and sadden communities in the Highlands and beyond."
A spokesman for child protection charity, NSPCC Scotland, described the case as "appalling".
He added: "The details of this horrendous abuse were truly disturbing and it is right that a custodial sentence has been imposed."