Munlochy and Skye charities help lost otter cub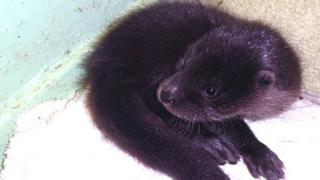 An otter cub that has lost its mother has been taken into the care of an otter hospital on Skye.
The 10-week-old male was found near Inverness and was first taken to Munlochy Animal Aid in Munlochy.
It has since been transferred to the International Otter Survival Fund's (IOSF) hospital in Broadford.
The cub will stay there until it is about one-year-old, the age when cubs usually leave their mothers, and will be released into the wild.
Grace Yoxon, of IOSF, said "We don't know how it became separated from mum but thank goodness it ended up with Iona Nicol at Munlochy Animal Aid.
"We have had cubs from her in the past and so know that she will always look after them properly.
"Otter cubs have to be given special milk and so it can be very dangerous for them to be given cow's milk."