Jacobite train to star in Trainspotting Live show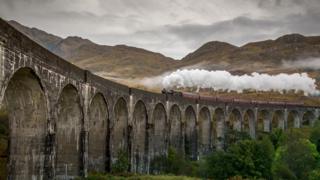 The team behind a BBC programme about train spotting is in Scotland to catch sight of the only steam train on the UK network on Monday night.
BBC Four's Trainspotting Live is hoping to spot the Jacobite train on the Fort William to Mallaig line.
The programme runs for three nights and explores rail history and engineering across the UK.
Its roving reporter Tim Dunn said seeing the Jacobite would be the "best bit of the programme".
He said: "I'm hopeful that people realise that 'train spotting' isn't a slur any more - and it shouldn't be.
"It's probably become shorthand for 'railway enthusiast' and a lot of us are railway enthusiasts, quietly, and a lot of us like seeing an interesting train.
"You can tell that from the thousands who lined the route of the recently restored Flying Scotsman, and those who are flocking to the reopened Borders Railway."
'Greatest journey'
A new season of steam locomotive journeys on Scotland's West Highland Line started again in May after a prohibition on the operator was lifted.
West Coast Railway Company, which operates The Jacobite steam train trips, had been banned from running its rail services on the UK's mainline railway.
The train travels along the West Highland Line, a route regularly listed among the greatest railway journeys in the world.
From Fort William, the trip takes passengers to Mallaig via the UK's most westerly mainland station, Arisaig.
The journey involves crossing the Glenfinnan Viaduct, which was used for scenes in the Harry Potter films.
The Trainspotting Live team want people to contribute to the programme through its website, with a different trainspotting challenge each day.
Mr Dunn added: "There's a lot to be enthusiastic about. Whether it's the fascinating technology, the history of our nation and people, art and design of railways or even collecting things like numbers, the world of railway enthusiasm is a joyful one.
"You can't fail to be moved by the sight of a steam locomotive."
Trainspotting Live is at 20:00 on Monday 11 July on BBC Four.