Humpbacks pictured breaching off Lewis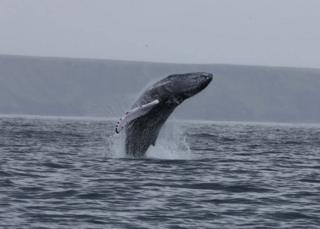 Humpback whales have been photographed breaching off the north east coast of Lewis in the Western Isles.
Nick Davies, a boat skipper with Gairloch-based Hebridean Whale Cruises, said he had witnessed the behaviour over the last five weeks.
He took his pictures off Tuimpan Head in Lewis.
Mr Davies said there had also been sightings of minke whales and hundreds of dolphins off Lewis and near Skye.
He added that the visits of the whales to the waters off the islands appeared to be becoming more frequent.
The humpback is a species known for spectacular breaching, according to the marine wildlife charity Whale and Dolphin Conservation.