Branson backs Scottish sunglasses makers Tens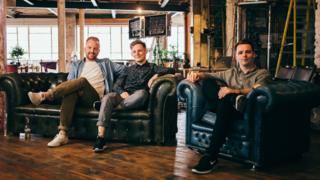 A sunglasses brand founded by three friends in the Scottish Highlands and now based in Glasgow has secured investment from Sir Richard Branson.
Photographers and film-makers Kris Reid and Marty Bell, who grew up in the Highlands, and Sheffield-born Tom Welsh launched Tens in 2014.
They initially raised money for the business through crowdfunding.
The investment from Virgin Group founder, Sir Richard, will be used to promote sales of Tens overseas.
At the moment, the UK is the largest market for the product.
The three friends have not disclosed the value of Sir Richard's investment, but said it was "significant".
Mr Bell, from Inverness, Mr Reid, who is also from Inverness and grew up in Beauly, and Mr Welsh met while studying at Napier University in Edinburgh.
They came up with the idea to create their own sunglasses brand on a road trip in the Scottish Highlands.